It's widely known that NSLP breakfast or hot meal have a limit of one per student per day. What may be a surprise is that the system is capable of applying the same restriction to any kind of item, for example Ala Carte snacks. "Oh so many cookies!" parents often complain. A number of our schools already enforce a "cookie limit" so we wanted to bring this option to your attention, in case parents are asking for it in your district.
There are two ways to set this up:
Method 1: The easy way.
You can email ask@pushcoin.com a spreadsheet with all the Ala Carte products that you would like to have a daily limit. We will apply the limit in bulk so you don't have to click around. Easy right?
Method 2: You are in control.
Method 2: Choose the Revenue accounts from the left side menu, then create a new revenue of Cafe Class: "PM-Snack". Under the Account Name you can call it anything you wish; in the below example, the school calls it "Ala Carte One-a-Day" so they can distinguish it from the "unlimited" Ala Carte. Tap Submit to finalize the new revenue account.
Next go to Products and assign this new revenue account to all your cafeteria products that you wish to feature the daily limit. When you are done editing your cafeteria products, hit the Publish button on the Products page to notify the POS systems of the updated settings.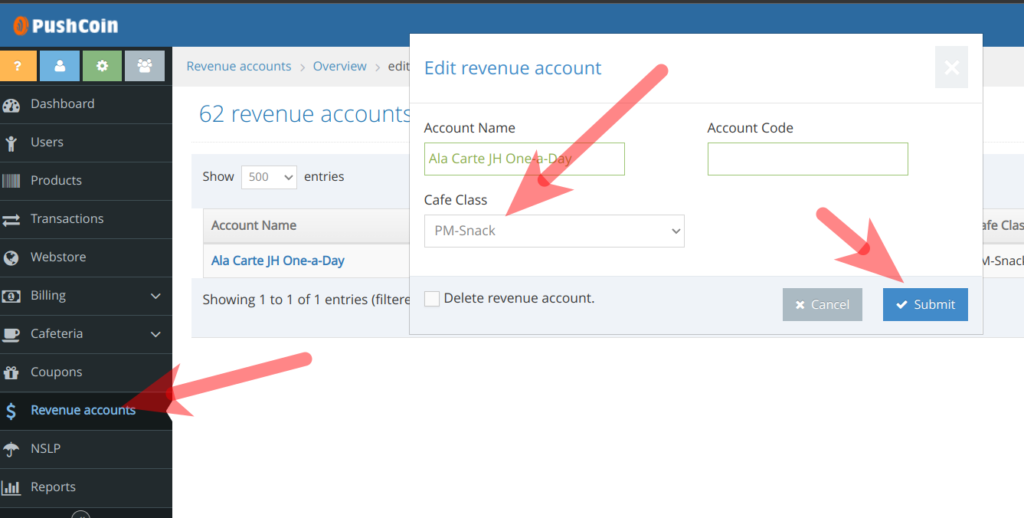 From now on, when a student goes through the checkout the system verifies that only one product of "PM Snack" class is sold to a student on any given day.